COVID-19 Relief and Inspiration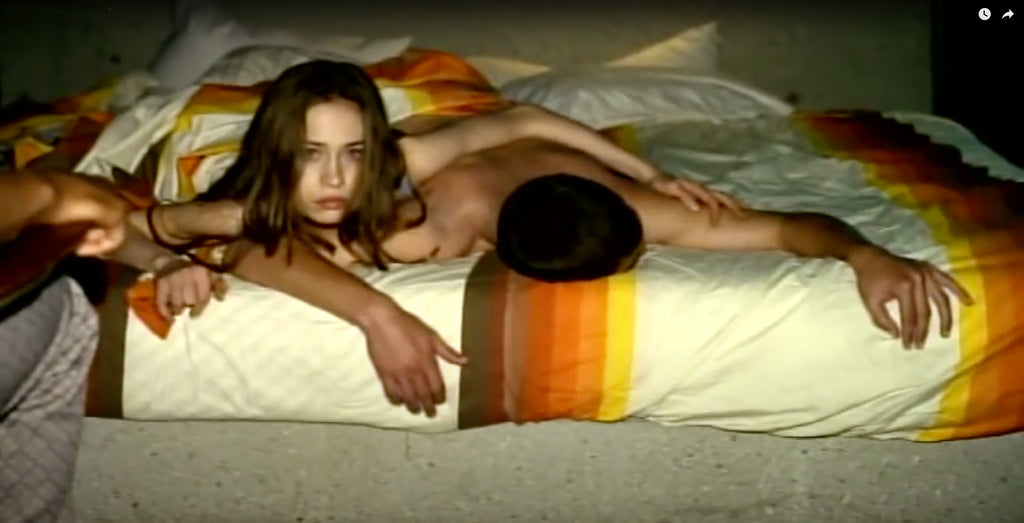 As a small business owner I am hanging by a thread much like everyone else out there it seems. Although I have a few other businesses that have sometimes kept me away from the shirt game, those businesses are also fighting to survive. PPP loans, SBA Disaster Relief, Grants, Etc. have all been spinning without any success the last few weeks unfortunately.
I will not complain. I will not lull in despair. That is not who I am. I have always been a fighter. I've always worked as hard as I could to rise out of bad situations and looked back on failures as life-lessons.
The current "Life-lesson" is a dandy. I was thinking the other day about ways I can help other fellow business owners along with trying to keep the lights on at the office. I decided to create a shirt after doing one of my quarantine basement workouts while watching 90's videos on YouTube. I was inspired by a set of sheets that I saw in Fiona Apple's "Criminal" video. (See picture)
I had the same EXACT sheets way back in 1979 as a four-year old. They were totally rad and it brought back innocent memories of a young boy living his best kid life in SE Portland. It's crazy how a 5-second clip of a random 90's video causes such inspiration.
Long story becoming short, I decided to create a shirt based on that sheet design. (Click here to check it out.)
Instead of printing a bunch and then holding inventory, I have decided to do a 10-day flash sale on the website. Anyone interested has 10-days (April 20th through April 30th) to order. At the end of the sale, I will only print what has been ordered. The plan is to get all shirt orders in the mail no later than May 10th.
And to help support fellow small business owners, I am donating $5 from every shirt sold to the Oregon Community Foundation to provide funds for Oregon Small Business Stabilization Grants. The money raised will help provide grants to small businesses particularly affected by the outbreak of COVID-19.
I hope all of you have found some inspiration and drive in these trying times as well. Pease try to stay sane and safe. There is a light at the end of this tunnel and I hope we see that soon.
Thanks to all of you for your support and wishing you all good vibes!
-John